As a kid, the murmur of the footie scores balanced the buzz of Saturday tea. The week's only night of fast food was a feast: salt and vinegar crisps, sandwiched between 2 slices of thin white sliced. It felt a long awaited treat, hanging out with Dad watching Bullseye and other Saturday night schedule shockers.  Given the lack of interest in sport in our house, it's remained a mystery why the scores were ever on, but the monotonous tone reflected its content to an eight year old, and as a result I've inherited Dad's indifference to Sport. That is, apart from the excitement we shared watching 'the arrers'. The enthusiasm of players and supporters alike used to fill the lounge; and we embraced the Sport's great personalities, cherishing old favourites and cheering young upstarts. As with most childish things, I left my diet of crisp sandwiches behind and my cultural consumption expanded beyond Bullseye on the box; but I held on to hopes of one day going to the Darts.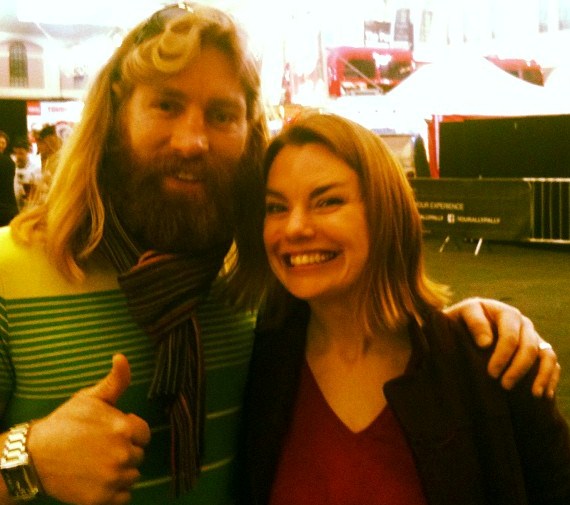 It is some decades later that I find myself distractedly snooping on music rooms of 'the cultured', meandering down London's Muswell Hill to the World Darts Championships at Alexandra Palace.  Apparently "known globally as the birthplace of television", Ally Pally's imperial glory has faded to a now dilapidated and ominously desolate setting for the sporting event and its spectators. I pass only a few fellow visitors on my way in, groaning at the overbearing presence of 'ironic' stag dos in Only Fools and Horses masks and the like.
Disgruntled by this lack of authenticity, I was further disheartened at the appearance of cheerleaders. These ladies were clearly not leaders in either dance or cheer, but caused more of a stir in the drunken punters than the arrers and left me wistful for the days of the 'Darts Wife'. With more gold finery than Bet Lynch and a packet of B&H, they led the throng in cheering the players with more vitality than this sorry lot.
I was hoping for some heroes, and whilst you could have your photo taken with Eric Bristow for 'a pony', the players didn't incite the excitement in me – or the crowd – that I remembered. My fellow spectators were more interested in current celebrity, 'Darts Jesus' (an Aussi living in Abingdon) who blessed us with a second coming, following his infamous ejection from the previous week's event at Butlins, Minehead.  Jesus (Nathan) had affably introduced himself to me before the darts (well asked me to look after his pint so he could go for a fag). It wasn't until he professed he could turn water to beer that I gauged his significance; and on learning he was on an all expenses day out, I thought it was my lucky day for a moment. For, with tickets up to £55, and around £4.50 a pint, it wouldn't just be meeting Jesus that makes a day out at the Darts a special treat.
The sport that I held dear as both exciting and accessible lost many of its charms in the flesh. The saying, 'the camera adds ten pounds' is in this case a misnomer, it seems. The Darts was – and remains – great television; but the reality of the live sporting event somewhat missed the mark (for an overgrown eight year old with a salt and vinegar deficiency, anyway).
Susan Oman, PhD Researcher, Understanding Everyday Participation
Image of Susan meeting 'Darts Jesus', courtesy of photographer, James Capability Carters