UEP's new PhD, Ruth Webber offers some reflections on a symposium she attended in  the first weeks of her PhD
I came to the Performing Place symposium with a view to hearing more about how to carry out research in a creative, experimental and fun way. My background is in Visual Anthropology so although I have been exploring creative methods which play with representation, focus on reflexivity and encourage a collaborative approach, I haven't touched upon methodologies which use performance, so those presented in the projects at this symposium were new to me.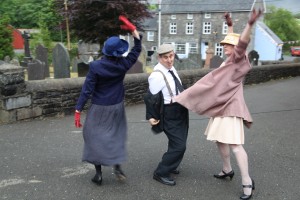 I was hugely impressed by and excited to  hear about the possibilities and successes these researchers had had through performative, place-based practices. From triggering memories through hanging oranges in trees, to transcending the limitations and boundaries imposed upon the body in geographical immobility through the art of parkour, this symposium proposed applied drama techniques as a means to re-think place through the act of performance when working with and in communities.
The disruption of the everyday seemed to underpin many of the projects. This varied from the use of everyday objects in unconventional ways, such as scattering cornflakes on the ground, to having a picnic in the shrubbery outside the library, which was an important hub of everyday participation for one class of participants. Through playing with place and the actions which are carried out in it, the idea of knowledge as embodied and disseminated in experience was strongly emphasised. Working with a group to perform their understanding of place, and how they exist within it, can work to bring things back into community consciousness which are otherwise intangible in their subconscious embodiedness.
I was also very taken by Canan Salih's use of 'performance walks' in which she worked with a group of young Turkish Cypriots in London asking them where in the city they 'felt most Turkish Cypriot'. One of my lecturers on my Masters explored the idea of the 'walking lecture', in which he prepared a lecture for us and we downloaded it in advance onto an mp3 player, and experienced the themes, ideas, and places he was talking about as we walked in the physical sites themselves. I think this idea of walking as a methodology can be hugely powerful, as the issues of abstracting thoughts/feelings/memories from place can disrupt the sensations and understandings of it. Removing these concerns from place underestimates the importance of physical context and makes for a flatter way of talking about things. The mp3s created in Salih's project are now available to download and listen to in a guided walk around the area. The act of dissemination is dynamic, yet rooted in the very physicality it explores and returns to the embodied-in-experience facet of knowledge of her participants.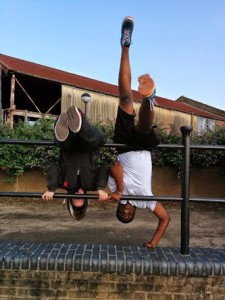 Adelina Ong's reflection on 'parkour x theatre' workshops with 'vulnerable' young people highlighted research that demonstrates the link between geographical mobility and social mobility of young people in London. She suggests that place-making performances like parkour might serve as a powerful metaphor for one's approach to obstacles in one's life.
I am now relating the multitude of ideas which sprung up for me in these few hours back to the project I am now a part of in my own PhD Research for the Understanding Everyday Participation – Articulating Cultural Values (UEP) project. What seems to link them together is not only the idea of experimenting with methodology as is encouraged in UEP, a very inter-disciplinary collaborative project, but also in the approach in talking about the idea of 'the everyday' – how does it shape our daily lives? How might issues of access be transcended in powerful symbolic or real ways? How can we play with it? These are all ideas I am interested in thinking through as I embark on my research into everyday participation in Glasgow, and the thoughts, projects, and passions invoked in me by this dynamic morning will undoubtedly influence my own approach to carrying out research.
One more thing (and recognising time constraints)… given that it was a symposium about performing place, I must admit I was rather disappointed by the lack of practical workshops. I would have thoroughly enjoyed seeing one of the many sessions and approaches talked about in action. Just an idea for next time.
Image credits:
1 Capel: the lights are on in Bronant, Ceredigion, by Cyrff Ystwyth, 
part of the Challenging Place project. Choreographed by Adrian Jones
and led by Margaret Ames (co-investigator on Challenging Place, 
Aberystwyth University). Photographer: Nick Young.
2 Workshop for male youths in Tower Hamlets, part of a 
practice-as-research PhD, Second and third generation London Turkish 
Cypriot youth: place, performance and identity undertaken by PhD 
candidate Canan Salih, Royal Central School of Speech & Drama. 
3 Workshops for young people in London 2014 and Singapore 2013, part 
of NAC (Singapore) funded Reclaiming the City of Possibilities 
through urban art inspired, applied theatre interventions. Led by 
Adelina Ong, PhD candidate, Royal Central School of Speech & Drama.